2003 NBVME Award
Dr. Melvin J. Swenson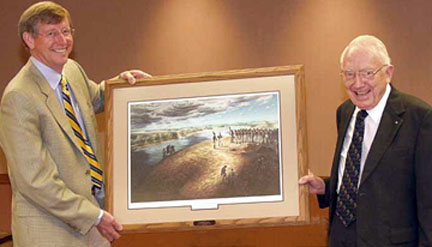 The National Board of Veterinary Medical Examiners (NBVME) has presented the fifth NBVME Award to Dr. Melvin J. Swenson of Ankeny, Iowa. NBVME Chair Dr. Roger Magnusson presented the Award to Dr. Swenson during the NBVME's July 21 meeting in Denver.
Dr. Swenson served as a member of the NBVME from 1957 to 1972, representing the Association of American Veterinary Medical Colleges. He also served on the NBVME's Examination Committee from 1958 to 1965 as a physiology content expert. The Examination Committee was responsible for overseeing the development of the National Board Examination (NBE), working with staff from the Professional Examination Service.
Dr. Swenson's contributions as a member of the NBVME were key in seeing that the new licensing examination developed into a high quality assessment instrument. The NBE was first offered to candidates in 1954 in three states, and by the time Dr. Swenson completed his service on the NBVME, the NBE was required for licensure in nearly all jurisdictions.
Significant actions taken by the NBVME during Dr. Swenson's tenure included establishment of the Interstate Reporting Service, the formation of the Educational Commission for Foreign Veterinary Graduates (which functioned as a committee of the NBVME), establishment of a common testing date, and discussions on the potential use of the NBE as a tool to evaluate veterinary medical colleges.
Dr. Swenson was born in Concordia, Kansas. He received his DVM degree from Kansas State University in 1943, and MS and PhD degrees in physiology from Iowa State University in 1947 and 1950, respectively. From 1949 to 1987, Dr. Swenson served as a faculty member at Kansas State, Colorado State, and Iowa State, and he headed the Department of Physiology and Pharmacology at Iowa State from 1957 to 1973. In 1987, he was awarded Professor Emeritus status at Iowa State. Dr. Swenson was a major professor for nine MS and nine PhD students, and a faculty advisor to thousands of pre-veterinary students. Dr. Swenson is perhaps best known to veterinarians and veterinary students for his role as a contributor to and editor of Dukes' Physiology of Domestic Animals.
Dr. Swenson was one of the founders of the Christian Veterinary Fellowship and the Christian Veterinary Mission. He and his wife Mildred have three children.
The Award was a print by Michael Haynes entitled, "With All the Honors of War" depicting the burial of Sgt. Charles Floyd on August 20, 1804. Sgt. Floyd was the only member of Lewis and Clark's Corps of Discovery to die on the expedition, and he was buried on a bluff overlooking the Missouri River in what is now Iowa.
The NBVME Award was established in 1999 to recognize individuals who have made significant personal contributions to the national licensing examination program. Previous recipients include:
Dr. Duane T. (Whitey) Albrecht, 1999
Dr. Samuel E. Strahm, 2000
Dr. Richard S. Hawe, 2001
Dr. Billy E. Hooper, 2002.