2004 NBVME Award
Dr. George Wadley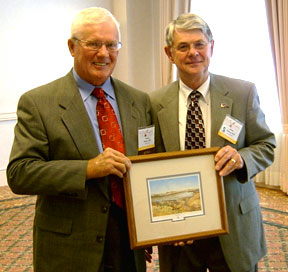 The National Board of Veterinary Medical Examiners (NBVME) has presented the sixth NBVME Award to Dr. George Wadley of Searcy, Arkansas. NBVME Chair Dr. Jan Krehbiel presented the Award to Dr. Wadley during the NBVME's July 26 meeting in Philadelphia.
Dr. Wadley was appointed to the National Board Examination Committee (NBEC) by the American Association of Veterinary State Boards in 1989, and served through 1995. He chaired the NBEC in 1991-92.
Dr. Wadley provided key leadership to the NBEC during a time of transition. He drafted revised Operating Guidelines for the NBEC, which subsequently formed the basis of the NBEC Bylaws when the board incorporated as an independent organization in 1994. He also was influential in the process that led to the adoption in 1992 of a common pass point for the National Board Examination and Clinical Competency Test in all licensing jurisdictions.
Dr. Wadley was born in Paragould, Arkansas. He received his BS degree in Agriculture from Arkansas State University in Jonesboro. After graduation, he served as a First Lieutenant in the U.S. Army in Korea. After his military service, Dr. Wadley worked for the Cotton Division of the US Department of Agriculture from 1957 through 1968.
In 1968, Dr. Wadley entered veterinary school at the University of Missouri, graduating in 1972. After graduation, he entered private practice in Searcy, Arkansas, where he worked until 1998. After a brief retirement from practice, Dr. Wadley accepted a position as State Veterinarian for the Arkansas Racing Commission in 2002, a position he still holds.
Dr. Wadley served as a member of the Arkansas Veterinary Medical Examining Board from 1979 through 1994. His work on the Arkansas Board let to his involvement with the American Association of Veterinary State Boards, for which he served as President in 1987-88. Dr. Wadley was recognized as Arkansas Veterinarian of the Year in 1986.
The Award was a print by Bismarck artist Gary P. Miller depicting members of the Lewis and Clark expedition on a buffalo hunt in the spring of 1805 along the Missouri River in what is now North Dakota. The print depicted above is a smaller version of the one awarded to Dr. Wadley, which was shipped directly to him from Bismarck.
The NBVME Award was established in 1999 to recognize individuals who have made significant personal contributions to the national licensing examination program. Previous recipients include:
Dr. Duane T. (Whitey) Albrecht, 1999
Dr. Samuel E. Strahm, 2000
Dr. Richard S. Hawe, 2001
Dr. Billy E. Hooper, 2002
Dr. Melvin Swenson, 2003