2007 NBVME Award
Dr. Al Hopkins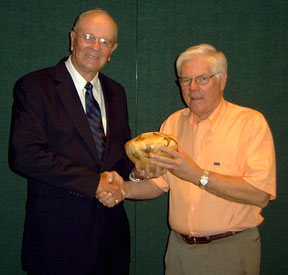 A native of Dallas, Texas, Dr. Al Hopkins needs little introduction to most people who have been involved with organized veterinary medicine during the past 35 years.
A graduate of Texas A&M University, Dr. Hopkins opened his first practice in Dallas in 1957. In 1964, he established the Highland Park Animal Clinic, where he worked until he sold the practice in 1997 and retired.
Beginning with the office of president of the Dallas County Veterinary Medical Association in 1969, Dr. Hopkins began his illustrious career as a leader in organized veterinary medicine. Subsequent leadership positions included president of the Texas Veterinary Medical Association (1976), Alternate Delegate to the AVMA House of Delegates (1977-1979), member of the AVMA Executive Board (1979-1985), Chairman of the Board (1984-85), and AVMA President (1986-87).
Awards received by Dr. Hopkins include Distinguished Alumnus of Texas A&M University (1981), and Veterinarian of the Year from Veterinary Economics Magazine (1987).
In 1989, Dr. Hopkins was appointed to the Texas Board of Veterinary Medical Examiners. He was elected to the Executive Committee of the American Association of Veterinary State Boards (AAVSB) in 1990. Dr. Hopkins is responsible for the successful implementation of the AAVSB's Disciplinary Database. The Database allows licensing boards to know if licensure applicants or licensees have had any disciplinary actions taken against them in another jurisdiction. Charlotte Ronan, former AAVSB Executive Director, has stated that without the leadership of Dr. Hopkins, the Disciplinary Database would probably not exist.
The AAVSB appointed Dr. Hopkins to the National Board Examination Committee (NBEC) in 1994 and reappointed him to subsequent three year terms in 1997 and 2000. Dr. Hopkins played a key role in the incorporation of the NBEC as an independent not for profit corporation. He was also active in the development of the NBVME's species specific examinations, and in the development of the Veterinary Clinical Skills Assessment, which is now administered at Cedar Valley College in Dallas.
Dr. Hopkins and his wife Bobbie live in north Dallas. They have three children, all graduates of Texas A&M, and seven grandchildren. Dr. Hopkins counts golf, which he does almost every day, as his primary hobby.
The Award was a wooden bowl made from a boxelder burl by North Dakota craftsman Jon Norman, and it was presented to Dr. Hopkins by NBVME Chair Dr. Mike Thomas.
The NBVME Award was established in 1999 to recognize individuals who have made significant personal contributions to the national licensing examination program. Previous recipients include:
Dr. Duane T. (Whitey) Albrecht, 1999
Dr. Samuel E. Strahm, 2000
Dr. Richard S. Hawe, 2001
Dr. Billy E. Hooper, 2002
Dr. Melvin Swenson, 2003
Dr. George Wadley, 2004
Dr. Susan McDonough, 2005