2010 NBVME Award
Dr. James B. Dalley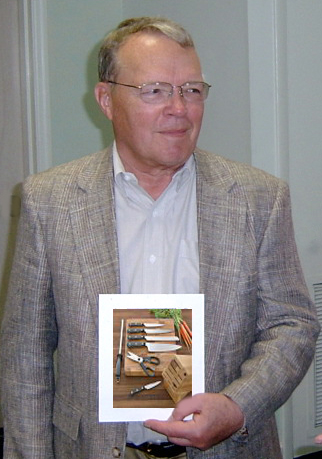 The National Board of Veterinary Medical Examiners (NBVME) selected Dr. James B. Dalley of East Lansing, Michigan to receive the 2010 NBVME Award. The award was presented to Dr. Dalley by NBVME Chair Dr. Linda Blythe during the NBVME's January 22 meeting in Key West, Florida.
A native of Wyandotte, Michigan, Dr. Dalley graduated from the College of Veterinary Medicine at Michigan State University in 1959. After graduation, Dr. Dalley joined the faculty at Michigan State, first as a clinician in large animal medicine and surgery and later as a small animal medicine clinician, focusing on dermatology. He earned a Master's degree from Michigan State in 1965. Dr. Dalley served the College of Veterinary Medicine at Michigan State for a total of 39 years, retiring in 1999.
Dr. Dalley was appointed to the Michigan State Board of Veterinary Medicine in 1987, and served until 1996. Through his work with the Michigan board, he became involved in the American Association of Veterinary State Boards (AAVSB), and he served as AAVSB President from 1997-1999. The AAVSB appointed Dr. Dalley to the National Board Examination Committee (NBEC) in 1999, and he served for three, three-year terms, chairing the board from 2004-2005. The NBEC changed its name to the National Board of Veterinary Medical Examiners in 2001.
During Dr. Dalley's year as NBVME chair, he played a key role in the development of the Veterinary Clinical Skills Assessment (VCSA). The VCSA is a two-day hands-on examination used by the AAVSB's Program for the Assessment of Veterinary Education Equivalence (PAVE), a certification program for graduates of non-accredited veterinary schools. Dr. Dalley was involved in the selection of Cedar Valley College in Dallas as the VCSA site, and he has served as an examiner for the VCSA each time it has been administered, including January 9-10, 2010.
The North American Veterinary Licensing Examination (NAVLE®) was administered for the first time during Dr. Dalley's second year as an NBVME member. During his time on the board, he was directly involved in the development of the NBVME's Qualifying Examination, adoption of the NAVLE retake policy, and updating the NBVME Bylaws. He also participated in several NAVLE irregular behavior hearings.
In presenting the award to Dr. Dalley, Dr. Blythe cited his steady leadership, his willingness to volunteer for extra tasks, his ability to see and understand all sides of controversial issues, his commitment to providing excellent service to licensing boards and examination candidates, his remarkable memory, and his keen sense of humor. She noted that he continues to offer his services to the board two years after completing his final term, through participation in item review meetings and outreach visits to licensing boards.
The Award was a set of Wusthof kitchen knives. Given that we were not able to travel to the meeting site with knives in our luggage, Dr. Dalley is holding a photo of the knife set in the above photo; the knives were sent to his home following the meeting.
The NBVME Award was established in 1999 to recognize individuals who have made significant personal contributions to the national licensing examination program. Previous recipients include:
Dr. Duane T. (Whitey) Albrecht, 1999
Dr. Samuel E. Strahm, 2000
Dr. Richard S. Hawe, 2001
Dr. Billy E. Hooper, 2002
Dr. Melvin Swenson, 2003
Dr. George Wadley, 2004
Dr. Susan McDonough, 2006
Dr. Al Hopkins, 2007
Dr. Nancy Collins, 2008