ICVA Award
The ICVA established an award in 1999 to recognize people who have made significant personal contributions to the national examination program. Twenty-two (22) awards have been presented to date.

2021 ICVA Award Recipients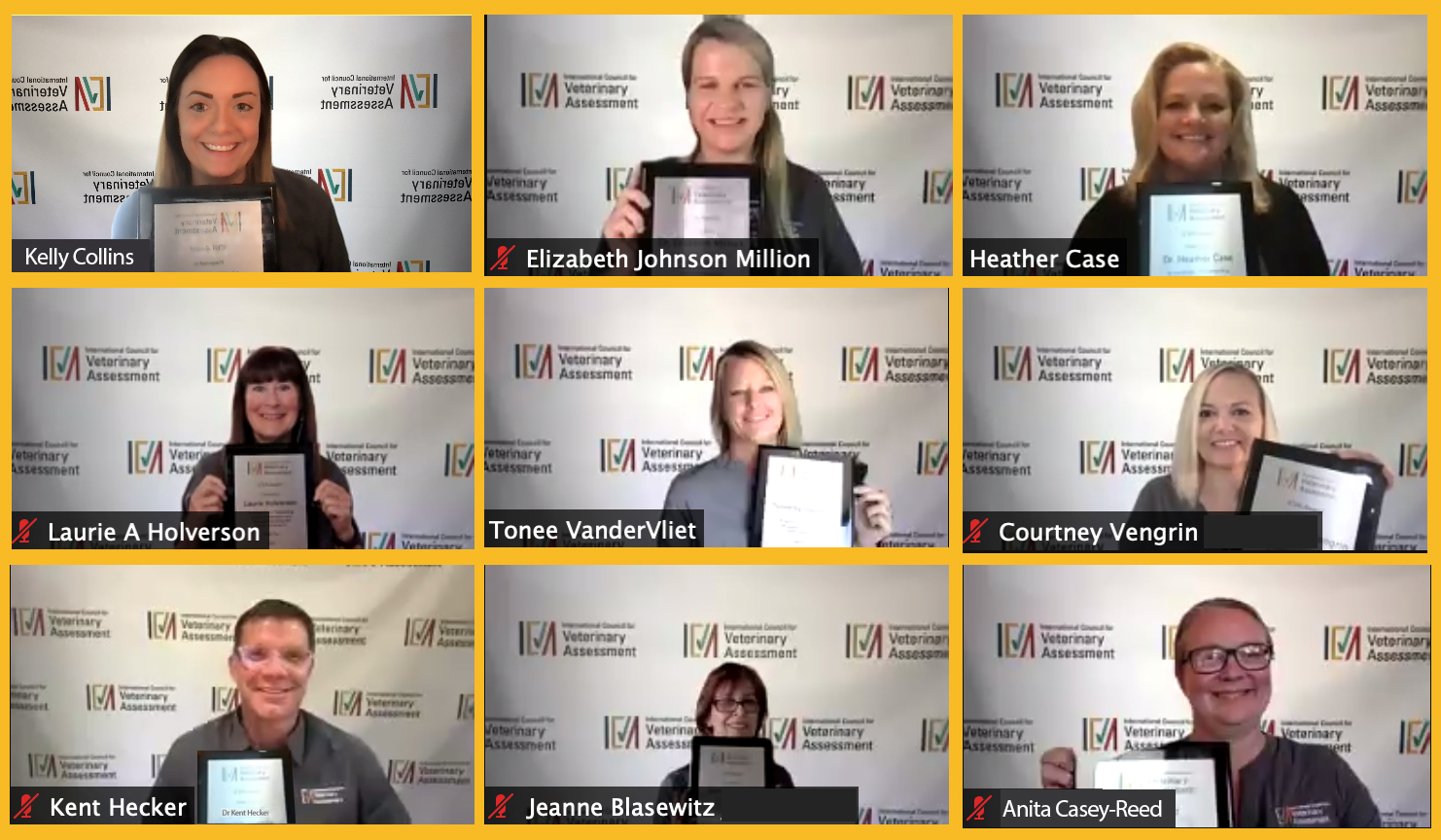 2021 marked a momentous occasion when all nine individuals of the ICVA staff were presented with this prestigious award.
COVID brought unique challenges for the ICVA team – testing windows were expanded, schedules were disrupted, and customer service needs skyrocketed as young veterinarians who needed the exam searched for open testing centers. These nine individuals went above and beyond during the pandemic, and what they accomplished on behalf of the ICVA during stressful times was truly impressive.
"They didn't miss a beat, they were total rockstars," said Dr. Robertson, Chair of the Board of Directors. During the June 2021 Board Meeting, she gave a heartfelt presentation, showcasing each winner, their backgrounds, the difference they've made in their role, and thanking them for their service.
Jeanne Blazewitz (Program Manager)
Jeanne joined ICVA in October 2015 after many years working in human medicine. According to Jeanne, working with the ICVA team has been the best move she has ever made. Her dedication to the organization and the groups she serves has made her proud to be part of the team.
Dr. Heather Case (CEO)
Dr. Heather Case joined the ICVA as its CEO in July of 2014. At the ICVA Heather thoroughly enjoys working with the ICVA Board and volunteers, and an amazing team on all things related to veterinary assessment. Dr. Case has been the consistent driver of progress and expansion of ICVA and its mission.
Anita Casey-Reed (Program Manager)
Anita Casey-Reed joined the ICVA (then known as the NBVME) in April 2002. The thing Anita loves most about working at the ICVA is the opportunity to work with such wonderful people — not just her co-workers, but the volunteers, the school contacts, the licensing board folks, and the thousands of candidates who come and go through the NAVLE process.
Kelly Collins (Executive Assistant/HR Generalist)
Kelly's favorite part of working at ICVA is all the new opportunities she is exposed to moving into Human Resources. Kelly has stepped into a role where she feels more connected to the team members and truly cares about helping in any way she can.
Dr. Kent Hecker (Chief Assessment Officer)
Kent is the Chief Assessment Officer at ICVA as well as Professor at the University of Calgary. His background is applied psychometrics where he studies, and has published on, assessment related questions across the health professions continuum. The opportunity to work with ICVA and its amazing team is a highlight of Dr. Hecker's career, and he looks forward to continuing to build assessment best practices and competencies in veterinary medicine.
Laurie Holverson (Office Manager/Program Manager)
Laurie worked as a Licensed Veterinary Technician for 15 years in local veterinary practices, moved into a few other professions, and then was a Certified Clinical Research Coordinator working in human pharmaceutical clinical research prior to becoming part of the ICVA team in June 2011. Laurie loves being a part of the amazing ICVA team as they work together to protect the public, and animal health and welfare.
Dr. Elizabeth Million (Assistant Director of Outreach & Engagement)
In her role as the Assistant Director of Outreach and Engagement with the ICVA, Dr. Elizabeth Johnson Million works closely with the CEO and staff to promote the mission of the organization to all stakeholders. She plays an integral part in strategic outreach, especially for the North American Veterinary Licensing Examination (NAVLE).
Tonee VanderVliet (Program Manager)
Tonee VanderVliet joined ICVA before it was even called the ICVA and has remained a valuable member of the staff for over two decades. A North Dakota native, she graduated from Colorado State University with a B.S. degree in Equine Science. A self-proclaimed ICVA "lifer", she loves her job and especially what ICVA represents.
Dr. Courtney Vengrin (Senior Director of Assessment)
Dr. Courtney Vengrin's favorite part of her work with ICVA is any opportunity to use her design and data visualization skills. She loves bringing "boring" reports to life through the use of intentional design elements. Through data visualization she is able to highlight elements of statistical analysis that often go unnoticed and ov